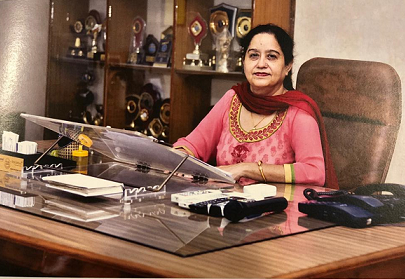 It gives me immense pleasure to record that Ms. Kaur is rendering yeomen service to the students of commerce stream. She is helping out Class 11 and 12 students to learn through this website .
I have remained in the teaching field for over 32 years. I have been a lecturer for 12 years and Head of the Institution for more than 20 years.
In this long journey I have had interactions with large number of teachers. I have come across very few teachers who are as dedicated as Ms. Kaur towards her profession. The interests and well being of her students has always been her top priority.
This website that she has launched for Commerce students is a testimony of her dedication to the noble profession of teaching. In this age where education has become heavily commercialized and is being used as tool for money minting, teachers like Ms. Kaur look like beacons of hope.
She has been teaching commerce for the last 30 years. As teacher she gives out her best to the students and has been achieving nearly 100% results every year. After school hours she works on the website to help the students who cannot afford to hire costly tutors.
The website is very informative, interactive and has been designed to be user friendly. She keeps updating it on regularly to keep up with changing times and requirements.
I recommend that students of Commerce stream should make use of this excellent facility, which is available to them, free of cost on the internet and improve their knowledge of Commerce. I appreciate the efforts of Ms Kaur and wish her all success in her endeavours.
Dr.Sumati Kanwar
Retd. Principal