Mind Maps
Mind maps for Business Studies can be prepared easily to memorize different topics ,depending on your interest and creativity. A mind map is a diagrammatic presentation of a topic and its associated information, with the help of images, words and parts of words etc. Usually people prepare mind maps appearing as veins in human body or roots of a tree.
Simple form, of mind maps have been prepared here, for learning Delegation ,Centralisation and Decentralisation: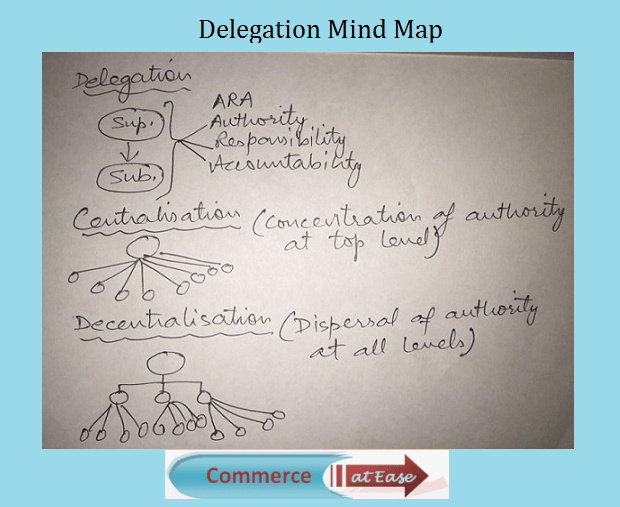 Another mind map of Controlling process is given here: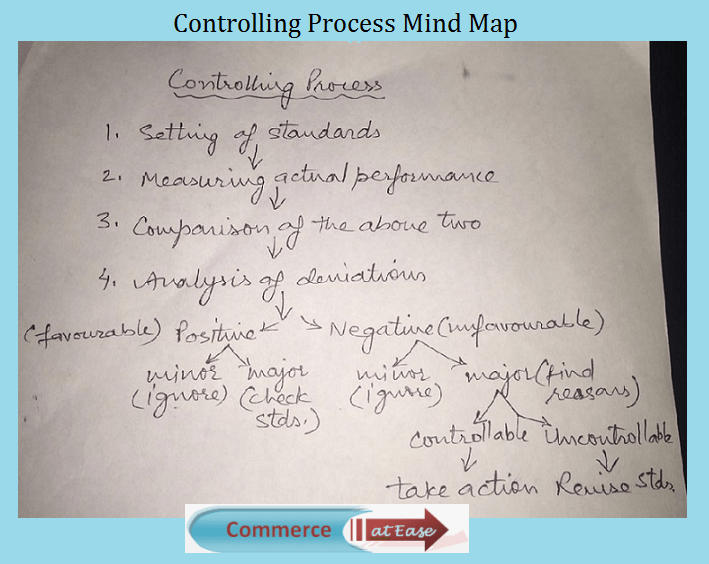 You can prepare your own mind maps using different colours,symbols and drawing, depending on the nature of topic or your interest.
Here are summary points relating to some difficult topics of Business Studies, which can be made interesting to learn by easily depicting in the form of mind maps :
Channels of Distribution :
Direct Channel
Manufacturer—> Customer
Indirect Channels
One level channel
Manufacturer —> Retailer —> Customer
Two level channel
Manufacturer —> Wholesaler —> Retailer —> Customer
Three level channel
Manufacturer —> Agent —> Wholesaler —> Retailer—>Customer
Factors Determining Choice of Channels of Distribution :
1.Company related factors:
a)Financial strength of the company:
Strong—direct
weak—indirect
b)Degree of control:
required on sale—direct
not required—indirect
2.Market related factors:
a)Size of market:
Large—indirect
small—direct
b)Geographical concentration of potential buyers:
Concentrated—direct
scattered—indirect
c)Size of order(quantity purchased)
small—indirect
large—direct
3.Product related factors:
a)Nature of product:
Industrial product—direct or small
consumer product—indirect.
b)Life of product(whether perishable…)
Durable-indirect
perishable-direct
c)Unit value of product
High—direct
low—small
d)Complexity of product
Technically complex—direct
simple—indirect
4.Competition factors:
a)Competitor:
same channel
opposite channel
5. Environmental factors:
Economic and legal constraints
Factors affecting requirement of Fixed capital
1. Nature of business:
Trading concern—-small,
Manufacturing concern—-large
2. Scale of operation:
Large—-large,
Small—-small
3.Choice of technique:
Capital intensive—-large
Labour intensive—-small
4.Technical up-gradation:
Required—-large
Not required—-small
5.Financial alternatives:
Available—-small
Not available—-large
6.Diversification:
Going for—-large
Not going for—-small
7.Growth prospects:
Higher—-large
Lower—-small
8.Level of collaboration:
Possible—-small
Not possible—-large
Factors affecting the requirement of working capital
1.Nature of business:
Trading concern—-small
Manufacturing concern—-large
Service concern—-small
2.Scale of operation:
Large—-large
Small—-small
3.Business cycle:
Boom—-large
Depression—-small
4.Seasonal Factors:
Peak season—-large
Slack season—-small
5.Production cycle:
Long—-large
Short—-small
6.Credit allowed:
Liberal policy—-large
Strict policy—-small
7.Credit availed:
Liberal policy—-small
Strict policy—-large
8.Availability of raw material:
Easy—-small
Difficult—-large
9.Lead time:
Long period—-large
Short period—-small
Factors affecting Financing Decision
1.Cash flow position of the company
Strong—-Debt
Weak—-Equity
2.Level of fixed operating costs
High—-Equity
Low—-Debt
3.Risk:
Lower business risk—-Debt
High business risk—-Equity
4.Cost of Debt:
High—-Equity
Low—-Debt( Debt can be used up to a level only.)
5.Floatation cost
6.Control considerations:
Threat to control—-Debt(only up to a level)
7.Stock market conditions:
Boom—-Equity
Depression—-Debt
8.Tax rate
9.ROI(Return on Investment)
10.Flexibility
11. Regulatory framework
Factors affecting Dividend decision
1. Amount of earnings:
high earning—-high dividend
low earning—-low dividend
2.Stability of earnings:
stable earnings—-high dividend
unstable earnings—-low dividend.
3.Stability of dividends
4.Growth opportunities:
Good—-small dividend
No opportunities—-large dividend
5.Cash flow position:
Enough cash—-large dividend
Insufficient cash—-small dividend
6.Shareholders' preference:
regular income, risk bearing.
7.Taxation policy:
High tax rate on dividend—-low dividend and vice-versa
8.Stock market reactions:
Expectation of shareholders affect share prices in the share market
9.Access to capital market:
High access—-high dividend and vice-versa
10.Legal constraints
11.Contractual constraints