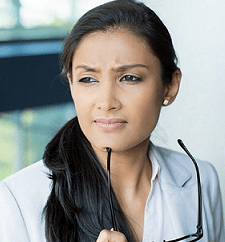 The basic behavior of any individual in choosing the best option always conclude in making comparison among available options. A student usually compares different institutes on the basis of fees, study material, faculty and then conclude, the choice of the best institute for their CA coaching.
But it's been found even after making such premeditated choice of institution, the student still feels little remorse. What we believe is that, though student makes an illustrious comparison of institutes they become oblivion towards their own competence and dissimulate the prime objective 'passing the exams'.
So, how to choose the best CA coaching institute in India .According to competence , there are few points which need to be considered by CA aspirants while making their choices.
1.The Inside Story of Promoters and Faculty Members
The standing of the teacher or in anybody's life, can't be obligated only on the knowledge acquired. It also has the footprint on dwelling the persona of their life. So it is important to meticulously choose these important pillars of education and knowledge.
"Education is the most powerful weapon, which can Change the World, And the teacher is one who can change the character, caliber, and future of a student."
Any institute where the founder is cognoscente with the knowledge and application of the course and have tenable years of work experience in that field is trusted, to produce the successful practical teaching methodologies, which is always gonna be beneficial for CA aspirants. The institute having best faculty for every subject is a professional and appropriate structure to provide focused C.A coaching to the aspirant.
2. Advance and Proper Infrastructure
The student spends the major time of the day in the institute. It becomes quite essential to have prospered seating arrangement, proper light system, ventilation, cooling system, drinking facility in the institute. It will not only enhance the learning experience of the student with a comfortable and homely environment but also keep hem healthy and fit so that they can have complete focus on their studies.
3. The Fee Structure
CA course is one of the most economical courses in India. The fees charged from various institutes consist of the cost involved in providing researched study material, acquiring reputed and experienced faculty and the facilities which are provided to the student to save their time and effort to focus on their studies. The fees varied from INR 1,60,000- INR 2,100,00 throughout India for total CA course.
The student should keenly evaluate the faculty and facilities available, and choose the institute which is providing the best faculty members along with best facilities at same fees or with marginal differences.
4. The Study Material Provided
Question papers, mock test papers, subject notes, regular assessment sheets are some important material while preparing for CA exams. CA exams are one of the toughest exams in India which need strong conceptual understanding and regular practicing and revision sessions .
Before enrolling to any institute, aspirants should check institute's periodic assessment table and the number of sample papers, model papers, mock test papers provided by them.
It is the general practice of the institute to upload their study material on their website, CA aspirant can visit their site and can just go through the study material available and can make a rational choice of the CA coaching institute, on the basis of quantity and quality of study material provided by them.
5. The Past Performance of the Institute
The past performance record of any institute must be checked as the "Mirror never lies". The past result is like a mirror reflection of any institute's teaching and guiding efforts. If any CA institute shows the constant result, and have good pass percentage then it merely can't be coincidence as coincidence doesn't happen twice.
The constant performance implicitly means that there has been devoted and disciplined efforts by the management and faculty along with the candidate, to create glorifying moments in every examination.
6. Senior's Testimonials
Testimonial gives a turn to phrases. They are a more reliable content source, to choose CA institute on the thrust of their experience with the faculty and management. Personally meeting a senior, and knowing their preferences and recommendation is good homework before selecting such institute .
In the era where information is on click of buttons, browsing through the various informative site is also a fair-minded technique to make a choice of CA institute.
7. Technology Enabled Classes
Now, nobody wants to refrain from information or knowledge, in this technical era. Any institute which is high tech and has infused innovative medium to provide coaching or information, surmounting demographic and time barriers, are progressive and steadfast in their purpose.
The webcast or online classes or providing courses on a pen drive or taking session through YouTube channels are few means of imparting knowledge through different medium.CA aspirant need to understand that these facilities will help them in having integrated sources of their course.
The student can make the arrangement with these available resources to be benefited in all respect like after reading their chapter listening to the same chapter on webcast while traveling, will help in having an undemanding revision.
8. Knowing Your Own Caliber
Now getting big elephant out of the room, self-assessment is a must before enrolling for any course. Many a times student gets influenced and follows the herd.
We believe that every student has his own capabilities and restrictions. It is important to understand them and evaluate your personal liking and your strength and weakness e.g .if you are a slow learner the best CA institute for you will be one with a lot of practice sessions and one which can give you extra time and commitment.
Or if you have a problem with only one subject then your selection should vary accordingly.
The pragmatic mind will evaluate the above-said points and will fill the form in their chosen "BEST CA COACHING INSTITUTE "
We wish you all the best.
Keep yourself healthy and commonsensical.
Author Bio: Nisha Singh is media manager at a renowned CA Coaching Institute in India. She is an enthusiastic content curator and loves to write and guide about various exams. Follow her writings here and don't forget to comment what you feel about them.