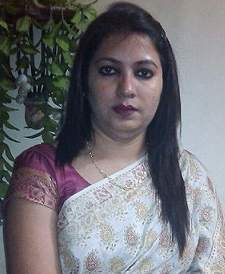 Teaching is my passion, and I love my job .Thanks to the Almighty for where I am. I can teach for hours, and interact with my students. I live my job every moment. I like interacting with students, when they bring their problems to me in the classroom. I feel at that moment that I am able to reach them and they are taking interest.
Moreover, for me, for being a teacher the most important is discipline and motivation than teaching.
Few days back, one of my student sent me a text message whom I taught in 2006. He mentioned, "Mam today, I wanna share with you, my happiness and value of your words which you told us in class one day that The day you will buy Harley Davidson with your own money, you will feel the difference (that was in the context of some child in my class who had a fight with his dad for a bike). Today, I am remembering your words and capable enough to buy, you were right Mam."
When I am able to convince a child to follow the right path, that's a real teaching, I love challenges and prefer to change the students for the betterment. Especially when weak students come out better, it makes me feel, that I am the richest person. There is no end to it.
Author Bio: Ms. Maninder Vohra, has been teaching Commerce for the last sixteen years and is based at Chandigarh.