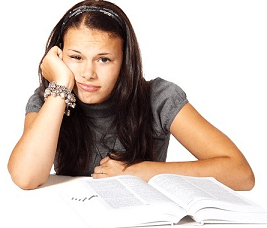 Sometimes. I hear students saying, "It is boring to study", "There should be no studies", "There should be short cut to studies and success". They don't want to study because they don't find any interest . They lack motivation and inspiration.
Do you want to meet any person to seek inspiration from, in the field of education?
Here is a list of some persons who had unlimited patience, strong determination and who worked to do something meaningful, to achieve more, to inspire others and to be of value to the society:
Oldest to appear for PG exam
Raj Kumar Vaish of Patna, Bihar enrolled for M.A. in Economics from Nalanda Open University, Bihar, on Sept 9, 2015, more than 77 years after graduating from Agra University in 1938. At 96+ years of age, he became the oldest person to take admission for a postgraduate course. In April 2016, he also became the oldest man to appear for the M.A. (Part1) exam conducted by the University.
Oldest to be Awarded PG degree
A Gopalan was awarded the degree of M.Sc. in Value Education and Spirituality by Annamalai University (Annamalainagar, Tamil Nadu) in June 2015. At 81 years of age (in June 2015) he was the oldest person to clear the post-graduation examination, 35 years after passing his B.Com examinations in 1980.
Oldest to Get Ph.D
 Nonagenarian Paul S. Soromoni (90) was awarded a doctorate in February 2017 by Serampore University, West Bengal, for his thesis 'God's call to the Church to join in transforming the World into a Kingdom of Love' after writing six papers, taking three long exams and attending several seminars for three years.
Oldest person to Attain a D.litt
86-year-old Narayan Lal Kankar was awarded his D.Litt in Sanskrit on July 7, 2015, at the University of Rajasthan's convocation ceremony. He had completed this degree in 2011. This time, University of Rajasthan's convocation ceremony  was organised after 25 years. He became the oldest Indian to be awarded this degree. Kankar obtained his Ph.D in Sanskrit in 1974. He has written and edited more than 70 books.
Obtained Most PG Degrees
Anil Kumar Yadav from Gangtok, Sikkim has obtained 14 post-graduate degrees from nine universities in seven States and Union Territories  from 1995 to 2014.
His degrees are: Master of Communication and Journalism (2011) , M.A. in Nepali (2013) , M.B.A in HRM (1997), M.A. in Economics (2012), M. Com (2013) , M.A in Mass Communications (2008), Master of Financial Management (2003) , M.A. in Sociology (1995), M. Com in Banking & Insurance Management (2011), M.A. in International Relations (2013) , M.Phil in Labour Studies (2014) ,M.Sc in Psychology (2006) , Master of Financial Analysis (2014) and M.A. in Environment and Development (2010) .
Most D.litt & Ph.D Degrees
Lt Col (Dr.) Jyotirmaya Satpathy has been awarded the post-doctoral degrees (DLitt) four times – for South Asian Studies in May 2007; for Business Administration in July 2009; for Industrial Relations and Personnel Management in July 2011 and for Economics in July 2013.
He also holds the Ph.D degree from three universities – in Analytical Economics (2000); in Applied Economics (2004) and in Management (2015). He has also done M.Phil twice – in Economics(1993) and in Education (2009).
Teaching over 1.5 lakh students
Bengaluru-based Roshni Mukherjee, is teaching over 1.5 lakh students through her online platform ,ExamFear.com , on You Tube Channel . She is a Master'sdegree holder in Physics who quit her full-time job to launch her channel in 2011, to teach Science and Math for free to students from classes 6 to 12.
She has made more than  5,000 videos on different topics in Physics, Chemistry, Math and Biology and many more. In January 2016, she was recognized as '100 Women Achievers' by the Ministry of Women and Child Development, Govt of India .
Most workshops conducted in different schools
Dhaval Bathia , conducted free educational workshops on memory skills and mathematics in over 345 schools in India and abroad to students from Std. 5 to Std. 10. He started his workshops in Mumbai on April 2, 2000 and completed in Dahisar on Aug 21, 2015. These workshops were of two hours each.
Educational apps in Google Play Store
Dr Dheeraj Mehrotra  an Educational Innovator from Lucknow has put up at least 150 educational apps for free, for the Android Google Play Store. These Apps are purely educational and are targeted towards teachers, students and parents.
He was inspired by another person who won praise by Prime minister Narender Modi, for developing more than 50 Google apps.
First to Devise Alphabets for Tribal Languages
Prof. S Prasanna Sree, Head, Dept. of English, Andhra University in Visakhapatnam is the first academic to have devised alphabets for 18 different Indian languages spoken by Adivasis in Andhra Pradesh, Chhattisgarh, Odisha and West Bengal.
The script likely to benefit, more than a million tribal people, has been structured based on the usage of their oral sounds, historicity and domestication of culturally available utilities.
First Transgender Principal
 Dr. Manabi Bandyopadhyay (50) became the first transgender Principal of a college, in a Women's College of West Bengal, on June 9, 2015. She was selected for this post purely on merit, her message to her community is: 'Education. If we learn, all our problems will be solved'.
She was also the first transgender professor to complete a Ph.D (in Bengali Literature) in 2005. In 1995, she published the first transgender magazine, Ob-Manab (Sub-human).
First Visually-Challenged Mechanical Engineer
Nikhil Prabhakar Shedge is the first visually-challenged mechanical engineer as confirmed by National Association for the Blind, New Delhi. A resident of Satara, Maharashtra, Nikhil completed his engineering programme (B.Tech) from Veermata Jijabai Technological Institute (VJTI), University of Bombay, in November 2014.
Creating Unusual Mobile Library
 Priti Gandhi, Principal of a primary school of Gandhinagar, Gujarat, launched an unusual mobile library for those who cannot afford to buy new books. She puts 20 books on various topics and subjects in each of the 58 aluminum bags bought for the purpose of physical safety of the books.
These bags are then distributed to the students of Std VI-VIII on a monthly basis. After the books have been read, the bags are exchanged. A cancer survivor, Priti has also converted a wasteland into an after-school-hours reading corner.
Source: Limca Book of Records