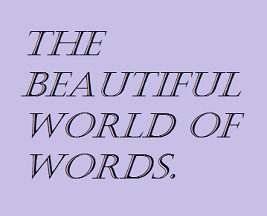 Dictionary has innumerable words. An average human being is not expected to learn all the words found in all the dictionaries but if one is keen to know as much as he can, the World of Words is definitely beautiful.
DID YOU KNOW the meaning of these words?
Aglet :
-is the plastic or metallic coating at the end of your shoelaces.
Box Tent:
-is the tiny plastic table placed in the middle of a pizza box.
Glabella :
-is the space between your eyebrows.
Wamble:
-is the rumbling of stomach.
Vagitus :
-is the cry of a new born baby.
Tines:
– are the prongs on a fork.
Phosphenes:
– is the sheen or light that you see when you close your eyes and press your hands on them .
Petrichor :
– is the way it smells after the rain.
Overmorrow:
– is the day after tomorrow.
Minimus:
– is your tiny toe or finger.
Agraffe :
– is the wired cage that holds the cork in a bottle of champagne.
Vocables :
– is 'na na na' and 'la la la', which don't really have any meaning in the lyrics of any song.
Interrobang :
– is when you combine an exclamation mark with a question mark (like this ?!)
Columella Nasi :
– is the space between your nostrils.
Armscye:
– is the armhole in clothes, where the sleeves are sewn.
Dysania :
– is the condition of finding it difficult to get out of the bed in the morning.
Griffonage :
– is the unreadable hand-writing .
Tittle:
– is the dot over an i or j.
Crapulence:
– is the utterly sick feeling you get after eating or drinking too much.
Bannock Device:
– is the metallic device used to measure your feet at the shoe store .
Alexithymnia:
– is the inability to identify and verbally describe emotions and feelings in oneself as well as in others.
Murder :
– is the group of crows.
Parliament:
– is the group of owls .
Queue:
– is the only word in the English language that is still pronounced the same way when the last four letters are removed.
Rhythm:
– is the longest English word without a vowel.
Almost :
– is the longest word in the English language with all the letters in alphabetical order.
The longest word:
– is pneumonoultramicroscopicsilicovolcanoconiosis, a word that refers to a lung disease.
Eutopia:
– is one of the shortest words containing all five vowels.
Oneiromancy:
-Divination or predicting the future through dreams.
Paracosm:
-A highly detailed world created inside someone's mind.
Petrichor:
-The small of the earth after it rains.
Hypnagogia:
-The transitioning state from sleeping to awake.
Apricity:
-The warmth of the sun in winter.
Photophile:
-A person who loves photography. They carry a camera on their shoulder wherever they go, and post to photo sharing websites all day.
Save
Save
Save
Save