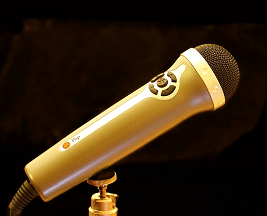 A TEDx Talk is a showcase for speakers presenting great, well-formed ideas in under 18 minutes conducted by TED , a non-profit organisation that began in 1984 as a conference on Technology, Entertainment and Design , and covers almost all topics from science to business to global issues, in more than 100 languages.
All these talks can be watched on youtube.
Self Determination Is Freedom And A Tool Against Prejudice
by Xenia Tchoumi ,Published on Nov 9, 2015
In this great talk Xenia Tchoumi has given an insight into her different identities. She has  explained the role of Internet being a low cost and democratic tool , for women and all other social groups that are often discriminated against ,to have a stronger voice and reach a larger audience, just by working on laptop or on a smart phone, with a strong determination. They can use forums, social media, blogs, video platforms and websites etc.
About Xenia Tchoumi: Xenia Tchoumi, a Swiss-Italian with Russian origins speaking six languages , holding a University degree in Science of Economics is an online entrepreneur, model and a digital celebrity.
Is There Scientific Proof We Can Heal Ourselves?
by Lissa Rankin, MD, Published on Dec 18, 2012
Many new age experts suggest that we can heal ourselves by simply changing our minds, but is this concept based on hard science? In her talk ,Lissa Rankin, MD has talked of exploring the scientific literature, reviewing case studies of spontaneous remission, as well as placebo and nocebo effect data, to prove that our thoughts powerfully affect our physiology when we believe we can get well. She is passionate about what makes people optimally healthy and what predisposes them to illness. She has explained how by merging science with spirituality, the health of an individual can be restored.
About Lissa Rankin, MD: Lissa Rankin, MD,is New York Times bestselling author of Mind Over Medicine, The Fear Cure, and The Anatomy of a Calling. She is a physician, speaker and the founder of the Whole Health Medicine Institute.
Healing Illness With The Subconscious Mind
by Danna Pycher, Published on Apr 24, 2015
In her TED talk, Danna Pycher has disclosed her own incident about surviving an accident and then coping with the chronic pain . Danna Pycher shares her story about trauma and the transformative insight she gained that allowed her to harness the healing power of the subconscious mind. She says that our minds and bodies already know how to heal. They simply need a bit of guidance for recovering from our past beliefs and programming.
About Danna Pycher: Danna Pycher is a certified Neuro-Linguistic Hypnotherapist specializing in chronic illness and trauma. She is also a motivational speaker and coach. Her curiosity about the nature of human beings is what guides her professional pursuits.
Changing Perceptions – From Sikh To Superfan
by Nav Bhatia ,Published on Oct 8, 2014
Nav Bhatia is a Sikh who had moved to Toronto in the 1984. He has narrated the journey of prospering from scratch there, after overcoming significant prejudice and obstacles as a Sikh . He has explained how he achieved the position of having, today successful business enterprises and the coveted title of 'Superperfan' of the Toronto Raptors. There is a message of hope and inspiration in his talk, as he urges us all to use our passions to rise above discrimination to allow us to excel.
About Nav Bhatia: With Google giving 3,14,000 results on typing his name, Nav Bhatia owns 2 Hyundai dealerships, Mississauga and Rexdale, with Mississauga awarded number one Hyundai volume dealer in Canada. He is heavily involved in bringing Bollywood to the Non Resident Indians and through his love of basketball and his business he looks to change the perception of Sikhs to the mainstream audience.
Breath – Five Minutes Can Change Your Life
by Stacey Schuerman ,Published on Jul 3, 2014
In her talk, Stacey Schuerman leads us through an exercise designed to reset, renew, and rejuvenate our energy. You can easily learn her by joining her as she teaches us about breathing and calming the mind.
About Stacey Schuerman: Stacey Schuerman, Experienced Registered Yoga Teacher, is the Co-Owner of SunSpark Yoga. Stacey's personal yoga journey began after an injury, when she discovered it was the perfect exercise for strength development, balance, increased flexibility and stress reduction.
How To Get Stuff Done When You Are Depressed?
by Jessica Gimeno ,Published on Nov 16, 2015
Jessica Gimeno ,has shared the techniques she has learned to help her get stuff done while depressed. In her talk, she has revealed that she lives with bipolar disorder and wants to expand the discourse around mental health. It's not enough to just receive a diagnosis, according to her, people have to learn to live with depression and other mental health issues.
About Jessica Gimeno: Jessica fights five illnesses daily: bipolar II, polycystic ovarian syndrome, asthma, psoriasis, and the neuromuscular autoimmune disease Myasthenia Gravis (MG). Jessica Gimeno a winner of more than 20 speech competitions, motivated by a friend's suicide, has spoken to hundreds of students till date.
Overcoming Hopelessness
by Nick Vujicic ,Published on Oct 17, 2012
In his talk Nick has talked about the importance of parenting in early childhood and its significance in overcoming hopelessness. In his words, "Willpower is a driving force for making our big dreams come true, but if we don't get a miracle in life, we can always be a miracle to someone else."
About Nick Vujicic : Nick Vujicic was born in Australia to a Serbian immigrant family, with a rare disorder characterized by the absence of all four limbs. Most of his childhood he struggled with depression, and after a suicide attempt he decided to concentrate on what he did have instead on what he didn't. He realized that his life story inspires many people.
Turning Adversity Into Opportunity
by Muniba Mazari,Published on Sep 21, 2015
Muniba Mazari has shared in her talk , the heart wrenching story of an incident which changed her life completely – from the bad to the good. While doing her bachelor in fine arts she had met a road accident which made her paraplegic and came on wheel chair. She takes the agony of spinal cord injury as a challenge and is more determined to express her sentiments through her art work. Although wheel chair bound, her spirit and artistry knows no bounds.
About Muniba Mazari :Muniba Mazari is an artist and a writer. In her artworks, she plays with vibrant colors and flawless portrayal of true emotions. Her work speaks her heart out and is all about people, their expressions, dreams and aspirations. Currently, she is running her brand by the name 'Muniba's Canvas' with the slogan 'Let Your Walls Wear Colors'.
How To Find Meaning When Reality Hits You?
by Manisha Koirala ,Published on Mar 23, 2017
In this soft and frank talk, Manisha Koirala has shared how she discovered the meaning of life when cancer struck her in 2012, things went down and how she came out of all this and made the worst situation of her life into a narrative of triumph.
About Manisha Koirala: Manisha Koirala is a Nepalese beauty made her success in Bollywood working in movies with directors such as Sanjay Leela Bhansali, Vidhu Vinod Chopra, Subhash Ghai and Mani Ratnam. The diagnosis of cancer caused her to pause and introspect her life deeply, which gave Manisha new goals and motivated her to rise and shine through trying times.
He Threw Acid On My Face, Not On My Dreams
by Laxmi Agarwal, Published on Mar 27, 2017
In her talk Laxmi Agarwal has narrated the incident of a middle-aged man who was pursuing her for marriage, how he had thrown acid on her on a horrific day, in Khan Market, New Delhi in 2005 and how a decade later, she has turned this chapter of her life into a narrative of triumph today. Like every, young and beautiful girl with a dream in her eyes with a passion of singing was waiting for a call from 'Indian Idol'. In 2006 she filed a PIL on punishments against perpetrators of acid violence and regulation on sale of acid in India. The PIL got judgment in her favor in 2013 and the amendments in the constitutions were framed as Laxmi Act. After being awarded as International Women of Courage by the First Lady of US Mrs. Michelle Obama, today she is the face of any and every unprivileged acid attack surviving women in India.
Breathing Happiness
by Emma Seppälä, Published on Apr 14, 2016
Emma Seppälä explained that you already possess the tool you need to control your own happiness. Emma Seppälä has explored the science behind harnessing your state of mind and how it can ultimately lead to success. Emma Seppälä, Ph.D.,has helped a number of veterans to overcome post-traumatic stress disorder using non-traditional ways . Using findings from cognitive psychology and neuroscience, Dr. Seppälä has shared how to apply the science of happiness in one's life in order to accelerate success
About Emma Seppälä:  Dr. Seppälä is the Science Director of Stanford University's Center for Compassion and Altruism Research and Education, and a 'leading expert on health psychology, well-being, and resilience'. She's a frequent contributor to Harvard Business Review, Psychology Today and Scientific American Mind. She's the founder and editor-in-chief of Fulfillment Daily, a news site dedicated to the science of happiness.
What Nobody Told You About Happiness.
by Saisha Srivastava, Published on Oct 19, 2015
In her talk Saisha has conveyed a very effective role one can play in society by giving an example of creating ripples in water. She has narrated how their team has taught dance to the blind and visually challenged students and how they achieved something unique to make those children happy. She has revealed the startling secret she learnt about happiness along the way.
About Saisha Srivastava: Saisha Srivastava is a 22-year old student at Vassar College, New York. She was born and raised in Kolkata, India. She is a dancer and the founder of 20 Days of Rain, a project aimed at spreading happiness through dance.